Australia Vacation Spot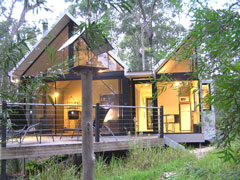 Australia Vacation Spots:
The Bower specializes in romantic getaways, relaxation & rejuvenation breaks, incredible romance, honeymoons, a honeymoon suite and celebration packages for your indulgence & privacy in a luxurious but laid back natural forest setting.
Designed for couples, this luxury self-catering holiday accommodation offers absolute privacy. The Bower is set on rambling acres of bushland close to secluded Broulee Beaches on the NSW South Coast.
The Bower at Broulee is a natural wonderland set amongst the Australian bushland...Wow!
It is called the "Eco accommodation with a touch of style", The Bower at Broulee provides luxury facilities, yet is set amongst more than 100 acres of natural bushland adjoining the Illawong Nature Reserve and linking freshwater & tidal wetlands.
I can't wait to see it for myself!
More Romantic Getaways From This Australia Vacation Spot
Coolest Vacation Spots Home Page