Costa Rica Vacation
Spot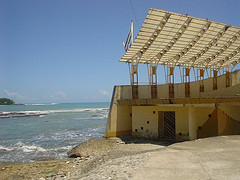 A Costa Rica Vacation Spot
Finding a great place to vacation could be a challenge. There are the normal places like Florida or Las Vegas that you could hit, but if you've already been there, you might want something new.
One place that you might consider is the beautiful country of Costa Rica. While you might have never been to a Costa Rica vacation spot, this doesn't mean that it is new to the travel industry.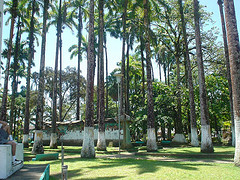 In fact, over a million people per year visit Costa Rica for a vacation. What does
Costa Rica
have to offer?
Located in Central America, Costa Rica has a very comfortable tropical climate. You can relax on the beaches, look at volcanoes, or search for some amazing wildlife.
The options for tourists are virtually limitless. It is a very popular place for ecotourists in relation to the rest of the world. Many people like to visit the national parks and famous places like Paos Volcano Crater, which is one of the world's largest craters. It is huge and spectacular.
The culture in Costa Rica is very relaxed and the people are very friendly. You will always feel welcome and there's a pretty good chance that you won't want to go back home.
Costa Rica is translated as "Rich Coast" and it is exactly as advertised. Once you set foot on the beach, you'll think that you've been transported to paradise. You can swim, snorkel, scuba dive, fish, and do a number of other activities in the beautiful clear ocean.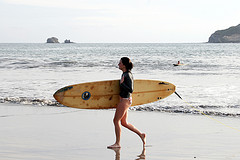 There are also a number of
great places to surf
, if you're into that. Puntarenas and Guanacaste are two of the better locations for surfing in Central America.
Other great activities in Costa Rica are biking, golfing, and wind surfing. The mountainous terrain gives you some of the coolest bike trails around. You'll see some great views and get in touch with nature.
While there are only six golf courses in the country, they are some of the most beautiful that you'll find anywhere. They give you some amazing tropical plant life and animals to look at while you hack your ball into the trees. On certain golf courses, you can even knock a few of your golf balls into beautifully, pristine, coastal waters. What could be more relaxing?
The Monteverde Cloud Forest is a great place in Costa Rica that you should definitely check out. If you've never heard of a cloud forest, just ask any kid under the age of five and they have undoubtedly seen one on Diego. They offer some amazingly lush, tropical environments and animals.
There are over 100 different mammals in this particular one and over 400 kinds of birds. A really cool thing to do here is ride on a zip line or a canopy tour up in the trees. This gives you a bird's eye view of the forest below and allows you to see a lot of things that you wouldn't be able to see otherwise.
Overall, a Costa Rica Vacation Spot is one of the most amazing places to visit in the world. Bring your sunscreen and prepare to have a great time.
Return From Costa Rica Vacation Spot
Photos by lyng883,
mikebaird.