Skiing Vacation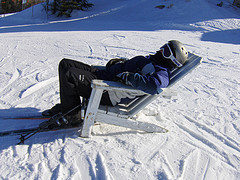 "Relaxing atop Mont-Tremblant. (It's harder than you'd think to get into an Adirondack chair while wearing skis.) " Quote and Photo by Joe Shlabotnik.
A Skiing Vacation... It's winter and you want to get Fresh Air, the Thrill of an Adventure Vacation and still Relax at the end of the day. Sounds awesome, doesn't it?!
Even though it's snow, it's a family hot spot vacation! Your family, from toddlers to teens, will totally love it. Skiing is for all ages. From mountains to hills, all resorts have a training hill, or 'Bunny Hill' all the way to expert/hard level runs.
Awesome photos by Kalevkevad, on the left, and jmax@flicker on the right. Thanks guys!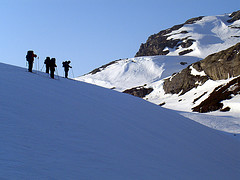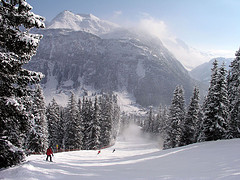 Do you have to be 'In Shape' for a skiing vacation?
You can be any level of physical shape to go skiing and still really enjoy your vacation. In fact you might even get into better shape because of it. You will definitely return home more refreshed and relaxed than ever.
If you are a confident skiing and your travel mate(s) or family are still inexperienced, let them spend the day with an instructor. Relax and let them get training on the basics. It will give the novice skier more confidence, and it will give the experienced skier time to explore the runs.
Many larger resorts now have excellent 'Daycare' training for kids. You just drop them off, safely with almost military level security for them. And while they are being taught how to ski, you get a romantic vacation on the slopes! I love this photo by James Preston!

What to bring?
What do you pack for your adventure tour vacation on the slopes?
Warm clothes for skiing, but don't forget your bathing suit! Resorts include hot tubs for romantic vacation time, and fun for the family. It will sooth your new-found skiing muscles and give you the most rested sleep you'll ever get on a vacation.
Every resort has ski vacation rentals so you are worry free from bringing your own equipment!
Our Top Spot for a Skiing Vacation?
Our favorite Vacation Spot for Skiing Is Now...
Hands down...Canada Skiing... Mont-Tremblant, Quebec.
Great slopeside location, ski in - ski out access. 10 minutes away from the Mont-Tremblant Casino. You can stay at the Residence Inn. Spacious suites with all the comforts of home. Book now.
Joe's pictures of Mont Tremblant are better than most people can take.
Click here to see in his photo of what skiing up to your door looks like!
The site offers 75 restaurants, bars and boutiques all within walking distance. Located next door to the Aquaclub La Source with indoor & outdoor pools & Jacuzzis and facing the Tremblant Convention Center.
Simply a great Canada Spot Vacation!
Your Best Honeymoon Vacation...
Fresh air, hot tubs, the cuisine...a skiing adventure vacation is the best honeymoon vacation for a couple who want to get active and have fun!
Check out the slopes near you for a romantic vacation together!
The best resorts have great ski vacation packages.
See you on the slopes!
Done Reading About Your Skiing Vacation?
Photos by James Preston,
kalevkevad, jmax.