Family Vacation Spots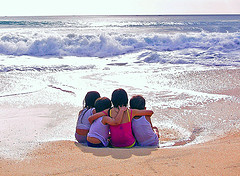 Our goal has been to pick two Family Vacation Spots a year; catering one for me and my husband, and the other for the kids.
This usually means all of us having a great time on vacation, and it's fun to search out new and exciting ideas for our next family fun vacation.
Are you 'surfing' for a vacation where the whole family enjoys it and there are plenty of things to do no matter where you go?
Then check these links out...
Family Vacation Spots For Teenagers
Family Camp! (Written from my kids point of view)
Jump for Joy! Save on Fall Family Getaways
Over the years of taking trips we will share our favorite places that have something for everyone in hopes that your search will be short and the vacation a blast.
Granted everyone has different tastes, so we chose our favorite
skiing, fishing, and beach vacations, along with a family cruise to boot.
Skiing is something everyone in our family enjoys.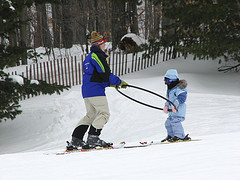 If it's not the speed down the hills, it's the hot tub in the evenings.
When we take this type of vacation trip we do three things; We go skiing, snowboarding, and snowmobiling. Usually, the first two are the normal, but the kids really can't wait to hop on the back of one of those rides. A ski trip is one of the best places we found to do things as a family and still have cash in our bank account. Several trails, slopes, and scenery to keep you busy all week long.
Check Out A Skiing Vacation In Canada.
Fun Family Vacation Spot - Fishing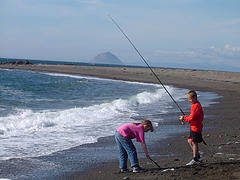 If you have a family that is more into taking a fishing trip, we have the perfect places for you to go.
Also, for those out there that is thinking this doesn't sound like fun at all, there is nothing better than watching your boys catch a fish and see that Kodak moment.
I love to fish, but I have friends who just love to spend the peaceful quiet time reading on the waters edge listening to the ripples and waves - in between giggles and the excitement of actually catching the first fish.

While Texas has some of the best saltwater fishing there is in the country, Florida offers a "National Geographic" type atmosphere in the swamps and lagoons, along with the deep sea fishing that's available. I am the best photographer when we take our fishing trips.

Family Vacation Spots - Beaches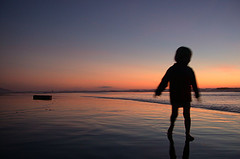 The majority of people, when you ask them about a vacation, the first thing they say is going to the beach. It's probably the first one I should of mentioned, but we have so many favorites it was hard to really narrow it down to just one!
Mmmm...Here's Jamaica.
The kids ended up making the final decision on this one, mainly because we were surprised they would choose it. But a
Family Beach Vacation
is their favorite. They like the waterfall climbing, free run along the beaches, kids activities and more. (I guess we know where we're going next time.)
Family Vacation Spots - Cruises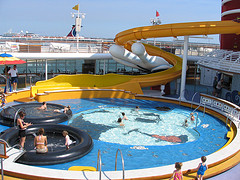 Then of course, a
Family Cruise
was a simple choice. Here's a shot from a Disney Cruise Vacation, but anything Carnival Cruise has is great for a family trip, and we think they can be more geared towards everyone - inside and out.
The food, events, activities, and even the other guests seem to be catering a family atmosphere no matter which ship you choose. Plus the boys have made friends with others that they still keep in touch with today. The internet allows them to talk all the time.
Family Vacation Spots
When it was all said and done we thought just giving you the highlights would get you started. We all have different tastes and the four
Family Vacation Spots
we picked, have things for everyone while on vacation. Pointing you in the right direction is what we are after. Have tons of family fun as you find your next family vacation spot.
Photos by Chance Gardener,
AndrewEick, Eggybird,
^riza^, MPR529