British Columbia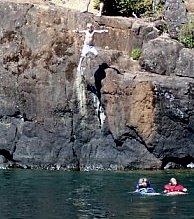 (My Brother Jumping Off The Rocks At Sproat Lake!)
If you are thinking about a family vacation in Canada for the upcoming summer, you might want to consider British Columbia.
My family and I went to Sprout Lake, on Vancouver Island, in B.C.!
We headed west in search of fun and that's just what we got! My Aunt and Uncle own a cabin on Sprout Lake and gratefully let us stay with our grandparents, and cousins, for a few nights. It was a big and beautiful place on a hill that over looked our own personal dock on the shore so we could roast marshmallows, and dance and sing by the moonlight.
In the morning we would all wake up to a sunny day, and head outside to to the warm, crystal clear waters. You could actually see right to the bottom 20 feet deep! So it was really fun to kayak too! We'd swim out to a platform, that we nicknamed Tippy Island. The perfect name because if my cousins and I went on it, it would tip us into the water! What a hilarious time!
By the time it was afternoon, we'd go tubing or boating, to a shop with delicious ice cream and treats. There was also a nearby grocery store where we went to buy fresh sushi.
By evening we were pretty tired out and soon got to sleep on comfy beds.
Everyday we saw beautiful scenery. Huge tree trunks that had to be as huge as the biggest elephant! As we drove on the mountains, we saw thousands of the majestic trees, and wildlife like bears and deer! Amazing!
So, if you are wanting a fun vacation for the summer, I suggest you rent a cabin on Sprout Lake and truly enjoy yourself!