Top US Vacation Spots
Key West, Martha's Vineyard, and Hawaii...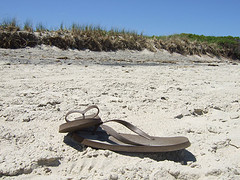 Top US Vacation Spots
Whether you are looking to "get away" for a family vacation, or planning a honeymoon with the one you love, there are just some places that beckon more than others.  I've been to lots of such places, but three stand out as absolute favorites.  And all involve a focus on water.
 Key West, Florida
Our first Top US Vacation Spot is Key West, Florida. 
Known as the Conch Republic, Key West has been "lost in time."  If one didn't know better, they'd think they had returned to the 60's. 
There are the usual tourist areas including the southernmost point in the continental U.S. landmark marking the 90-mile distance to Cuba and Jim Buffet's famous Margaritaville restaurant.  It's also the place to hang out and watch the sun fall into the Gulf of Mexico, a favorite local and tourist pastime.
 There are also the usual historical sites to see, including the Ernest Hemingway House and Museum, the Audubon House and the Key West Cemetery.  Don't forget the more risqué' adult side of Key West, including bars that are a bit light on clothing requirements and even "head" shops.
 Martha's Vineyard, Massachusetts
Now consider visiting Martha's Vineyard, Massachusetts.  According to the local chamber of commerce, the Vineyard is, "the perfect backdrop for a destination wedding and honeymoon, as well as a lovely retreat from the hectic pace of the world."  
While they are correct (at least from late spring to fall), first you have to get there.  The ferry ride is a wonderful way to start your vacation, because you experience the watery boundary that separates the Vineyard from the mainland.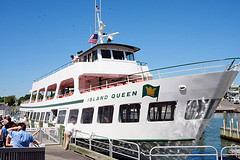 You can take a boat or small plane.  But most rely on the local steamship line and its ferry service.  The trip is a 45 minutes, but plan on making reservations (especially for your vehicle) and arrive early to get onboard.  If your vehicle isn't a must have for the Vineyard (there is mass transit and taxi service), you can park it at the ferry site.
  Make plans early to stay at a bed and breakfast or local inn or renting a home.  This is because major hotel chains are practically non-existent; only the Clarion name brand appears on a lodging listing.  
 Once on Martha's Vineyard you'll want to explore the historical perspectives and the scenery.  Hiking, bicycling and fishing are big activities.  So, too, is just relaxing on a porch, on a small sandy and rocky beach or sitting on a park bench.
 The island is rife with artisans.  Photographers, craftsmen and others offer chances to see their handiwork at festivals, special showings and in many specialized stores.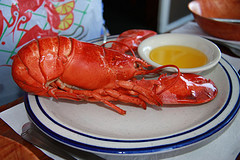 Eating out or in is a major pastime, as well.  Small restaurants, delicatessens and lots of "take out" opportunities abound.
Hawaii
And of course there is magical Hawaii.   The landscape is like nothing you've ever seen.  Smaller volcanic craters dot the horizon, except on the Big Island of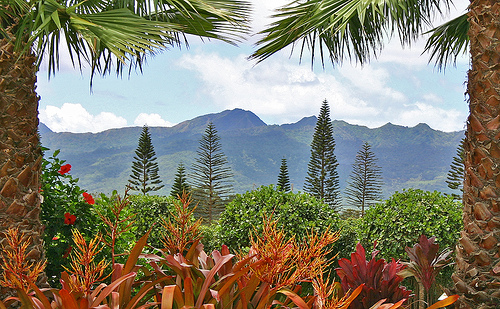 Hawaii. It's the youngest of the Hawaiian chain, where several huge volcanic craters loom. 
One of these volcanos, Kilauea, has been erupting continuously for the past twenty-seven years.  And if you ever wanted to see awesome natural power, up close and personal, then this is it.  Whether you walk to the lava flow or take the helicopter tour, Kilauea is a sight to behold. 
On Oahu, consider climbing up the inside part of Diamondhead, a heavily eroded volcanic crater, to witness Honolulu from up on high.  On Maui, you must take the early morning car or bus ride to the top of Haleakala to see sunrise from above the clouds.  Bring a sweatshirt, though.  Even though it's Hawaii, temperatures atop this 10,000 foot high mountain are often only in the 40's.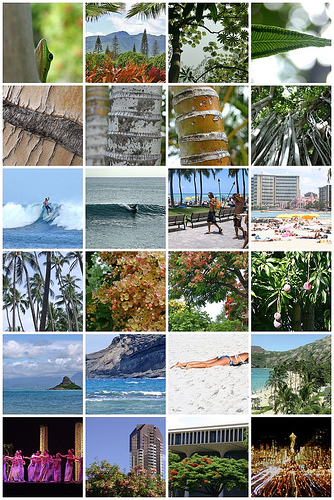 Hawaii has so many beautiful places to visit.  There is lush tropical vegetation on eastward facing mountain slopes where rainfall is heaviest; beautiful beaches, coastal rock formations and breaking wave patterns almost everywhere; rainbows atop mountain ridges where tropical showers hang out; and an incredible array of cultural sites that help explain how Hawaii came to be.
 These are just of the many great places to visit when away from home.  With so many to choose from, a good time to start is now.  Enjoy!
Photos by Bruce Tuten,
bowena, Dan Zen's, Lee Coursey.